WILD HORSE ISLAND SERIES
Wild Horse Island books are available at your local bookstore and online at Amazon.com, Barnes & Noble, and Indiebound.org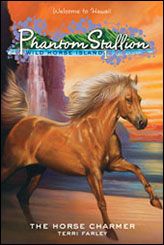 Wild Horse Island #1: The Horse Charmer
Darby Carter loves horses, even though she's never actually ridden one. Darby's grandfather is an expert rider—in fact, he owns a horse ranch in Hawaii. So when he agrees to take her in–along with the beautiful mustang Darby saved on the range in Nevada–she knows she can't refuse, even if she is a little terrified!
But Darby's filly arrives in bad shape, and Darby's grandfather wonders if the wild horse will ever trust a human again. Can Darby take the reins and save her horse–or has she lost the mustang forever?
Read an excerpt. | Purchase at Amazon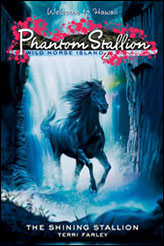 Wild Horse Island #2:- The Shining Stallion
Ever since Darby rescued her wild filly mustang, she's been having a tough time at her grandfather's ranch. And after she accidentally endangers one of his loyal and steady horses, she can't help but wonder if she really belongs on a horse ranch at all.
But then a shadowy horse shows up, prowling the grounds at night. Could it be the legendary Shining Stallion of Hawaii? And why is Darby the only one who has seen him? One thing is certain: When the mysterious stallion sets out to challenge the wrong horse, only Darby can stop him–before anyone gets hurt.
More info. | Purchase at Amazon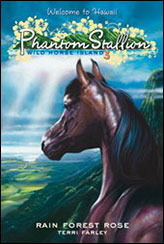 Wild Horse Island #3: Rain Forest Rose
Darby wants to visit her great-grandmother, a mysterious healer who lives in the middle of the rain forest. But she's afraid of the dark woods–until she sees a beautiful, elusive pink roan mustang roaming the forest.
When Darby finally braves the forest and meets her new neighbors, she uncovers a secret tragedy–one that led to a terrible fight between her two best friends. Can Darby and her great-grandmother mend a broken friendship? Or will the rain forest mustang save the day?
More info. | Purchase at Amazon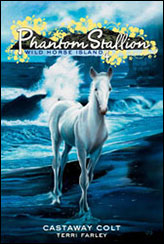 Wild Horse Island #4: Castaway Colt
Darby is nervous about starting at her new school in Hawaii, and when she gets there it's even worse than she thought. Within the first week she's made an enemy—her stuck-up cousin from the other side of the island.
At least Darby has a new horse to go home to: a beautiful colt that she found abandoned on a remote beach. Darby loves the colt, and she knows he needs a good home. But when her new worst enemy's parents call to rescue him, will Darby be able to let him go?
More info | Purchase at Amazon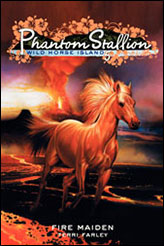 Wild Horse Island #5: Fire Maiden
Darby is excited to go on a "volcano watch," camping out and observing the island's volcanoes, despite recent small earthquakes that could mean an eruption is coming. After all, Darby grew up in California, so she's used to the earth rumbling now and then. Plus, the expedition is perfect for working with Hoku, helping the young mustang learn to handle any situation.
But when the volcanoes do erupt, it's much scarier than Darby anticipated, and a stream of lava leaves Darby and Hoku stranded. Can Darby's horse-charming skills keep the mustang calm? Or will her filly run back to the wild?
More info | Purchase at Amazon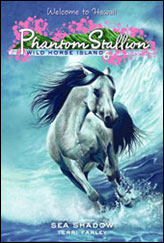 Wild Horse Island #6: Sea Shadow
When an earthquake sets off a tsunami on the shores of Wild Horse Island, the mustangs of Crimson Vale are chased by the waves and left stranded on a dangerous hilltop.
Darby knows the lead mare, Medusa, will do anything to save her herd—but will she let the ranch hands bring her to safety? Or is it up to Darby to save Medusa and her band—before they're lost forever?
More info | Purchase at Amazon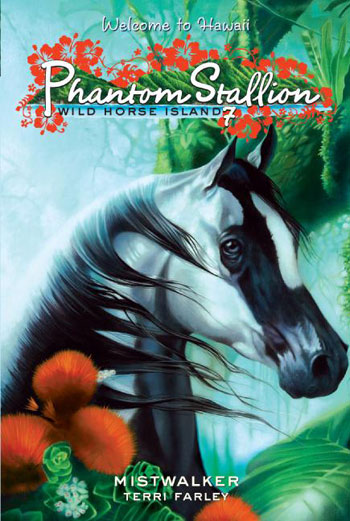 Wild Horse Island #7: Mistwalker
Darby doesn't understand how her mother, who grew up on Wild Horse Island, ever could have left. Now that Ellen Carter has come back to the island to visit, Darby hopes her mom won't want to leave again.
But Darby's grandfather and mother can't stop fighting, and Ellen wants to take her daughter back to California. When Darby finds a wild mare in the rain forest, she hatches a plan to convince her mom to stay—but will it work? Or will Darby have to leave the new home and wild horses she loves?
More info | Purchase at Amazon
Wild Horse Island #8: Water Lily
After a tsunami washes over her Hawaiian island home, Darby Carter must pitch in to help get her grandfather's ranch back in order and make sure none of the horses drink contaminated water.
Darby's friend Cade has even bigger worries. His mother, Dee, hasn't been seen since the storm. With no other leads, Darby and Cade set out in search of Honi, Dee's beloved pony. But even if they can find Honi, will she be able to take them to Dee?
More info | Purchase at Amazon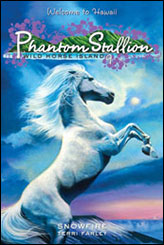 Wild Horse Island #9: Snowfire
Black Lava and his herd have been driven up to Sky Mountain to keep them away from polluted water. But there's only room for one lead horse on the mountain, and Snowfire, the white stallion, has already claimed it as his own.
Sure enough, Darby soon sees Snowfire chase Black Lava onto ranch lands. Her horse charmer sense tells her the Crimson Vale herd needs to return home or desperation will lead Black Lava into more danger. Between finals at school and an upcoming rodeo, everyone is too busy to listen to Darby's fears. Can Darby help Snowfire and Black Lava before their battle turns deadly?
More info | Purchase at Amazon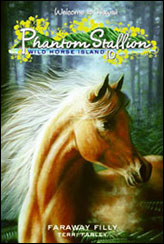 Wild Horse Island #10: Faraway Filly
Darby is a lucky girl. After years of dreaming about horses, she is finally surrounded by them on her grandfather's ranch in Hawaii. To top it off, she even has a horse of her own—Hoku, a wild mustang she helped rescue. After a few months together their bond has never been stronger.
But when Hoku must be set loose among other horses, her untamed spirit returns. As Darby tries to reestablish their relationship, even worse news arrives: Hoku's original abusive owner, Shan Stonerow, wants her back. Without a deed of ownership, could Darby lose the horse she loves
More info | Purchase at Amazon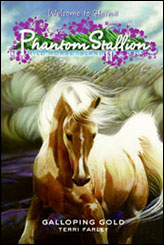 Wild Horse Island #11: Galloping Gold
A lonely girl, a wild horse, and a Hawaiian island full of possibilities . . .
Every horse has its bad habits, but Sugarfoot's are becoming a real problem. Despite this, Darby's best friend Ann will not give up on him—even when her parents' insurance company threatens to shut down their equine rescue program if Ann can't make the horse behave. With Sugarfoot's future on the line, Darby and Ann find the perfect outlet for his energy: the island's charity race.
As the big day approaches, though, Ann's leg injury flares up. Time is running out and the two girls must rely on the most undependable person they know—or Sugarfoot will be sent away forever.