WILD HORSE ISLAND SERIES
Wild Horse Island #11: Galloping Gold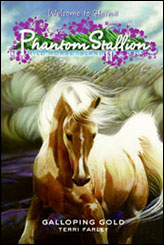 A lonely girl, a wild horse, and a Hawaiian island full of possibilities . . .
Every horse has its bad habits, but Sugarfoot's are becoming a real problem. Despite this, Darby's best friend Ann will not give up on him—even when her parents' insurance company threatens to shut down their equine rescue program if Ann can't make the horse behave. With Sugarfoot's future on the line, Darby and Ann find the perfect outlet for his energy: the island's charity race.
As the big day approaches, though, Ann's leg injury flares up. Time is running out and the two girls must rely on the most undependable person they know—or Sugarfoot will be sent away forever.