Wild Horse Island #9: Snowfire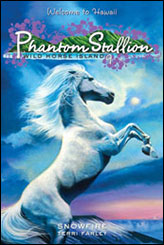 Black Lava and his herd have been driven up to Sky Mountain to keep them away from polluted water. But there's only room for one lead horse on the mountain, and Snowfire, the white stallion, has already claimed it as his own.
Sure enough, Darby soon sees Snowfire chase Black Lava onto ranch lands. Her horse charmer sense tells her the Crimson Vale herd needs to return home or desperation will lead Black Lava into more danger. Between finals at school and an upcoming rodeo, everyone is too busy to listen to Darby's fears. Can Darby help Snowfire and Black Lava before their battle turns deadly?