1. There are no natural predators to control the population.

Wild horses still have natural predators, but the U.S Department of Agriculture's Wildlife Services works hard to change that. Read more
Click here to download the "Wild Horse Myths" handout PDF.
---
ANNOUNCING MustangMedia 101 by Terri Farley: Whose Home on the Range?
Forward this to those who care or need to be educated about wild horses:
Wild horses can't speak their own stories. Once, that didn't matter, but now wild horses suffer and die at human hands. We take their food, water and homes. A few people want wild horses taken off public lands so corporations can earn money from the land's minerals, oil and grazing. But most people love wildlife and wild places. They're learning to stand up for wildlife because the Western public lands belong to all Americans! Our hearts lift at their rough power and beauty.

Knowing mustangs inspires me to tell their stories as well as I can, before they're extinct.

MustangMedia 101 by Terri Farley is my attempt to explain modern challenges facing wild horses.
Terri talks to you while she's watching captive wild horses:
---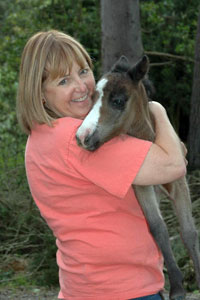 KNOW THE FACTS
You'll feel comfortable telling people what's happening to wild horses if you know what you're talking about.
Check out these websites for news, statistics and resources. If you are working on a wild horse report, these are good sites to visit.
American Wild Horse Preservation
The Cloud Foundation
Chilly Pepper - Miracle Mustang, Equine & Neonatal Mustang Rescue
Hidden Valley Wild Horse Protection Fund
The Wild Horse Sanctuary
Wild Horse Freedom Federation
Return to Freedom Wild Horse Conservation
Lifesavers Wild Horse Rescue
Montgomery Creek Ranch

WHAT'S HAPPENING RIGHT NOW?
Websites can't cover every single news story about wild horses, but you can create a Google alert for wild horses. Here's how.

Pay attention to these alerts to see where your voice is needed before the damage is done to your mustangs!
FOUR FILL-IN-THE-BLANK STEPS TO MAKE A LETTER-IN-WAITING
When you see an opportunity to comment about wild horses online or in person, do it! For short Facebook or Twitter comments, use only Step One. For letters to editors, blogs, letters to government representatives, use all 4 steps.
STEP ONE: Make a statement and use BECAUSE to back it up.

EX:

"Wild horses deserve freedom because laws have given them the right to roam public lands."

or

"Wild horses belong to all Americans and, because most American don't believe in eating horsemeat, mustangs shouldn't go to slaughter."

STEP TWO:

• Describe your personal connection to the issue in 2 - 3 sentences.

STEP THREE:

• Give 3 facts about the issue -- 1 - 3 sentences

STEP FOUR:

• WHAT ACTION do you want people to take? - 1 sentence
That's it! In 3 - 6 sentences, you will have explained why you want to live in a world with wild horses.
You can keep that short document as a letter-in-waiting, but whatever you do -- put your opinion out there!
You don't have to be brave or brilliant; you just have to speak up for those who can't speak for themselves.