Phantom Stallion E-Newsletter February 2017
HAPPY VALENTINE'S DAY BOOKWORMS!
Thank you all for having a heart for horses and books!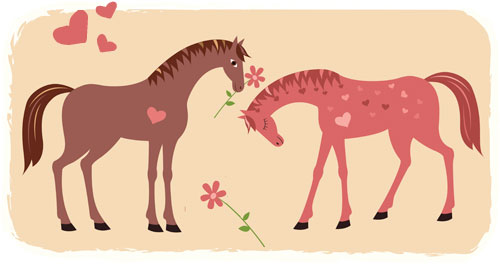 WHO'S YOUR FAVORITE TEACHER OR LIBRARIAN?
Don't miss the chance to win a thank-you gift for them! Details are included in this newsletter!

I'm excited that lots of my readers have been helping horses -- one from Germany is actually coming to Nevada to work with orphan mustangs and I will tell you more about her adventures, soon.
This winter has been a tough time for the mustangs of the West. There have been 4 round-ups in the last 6 weeks -- so they need all of your love to recover from the trauma of losing their horse families. I hope you'll send them your best wishes to find adoring humans to make them part of new, understanding "bands."
Want the facts of wild horse round-ups? Here's a news account that just came out last week and the facts are up-to-date and accurate.

PHANTOM STALLION lovers!
Sam's blog will be back next month and guess what? It will star Sam's baby brother! Can you believe he's already walking? Watch for your MARCH newsletter from me.

In case you missed my home-made video, I'll share it here and if you happen to see me while I'm in Texas (this month) or Kansas (next month), feel free to ask me for your free "movie star" horse from WHOSE HOME ON THE RANGE? I plan to be carrying them with me at all times!

WHO'S YOUR FAVORITE TEACHER OR LIBRARIAN?
Write me a short email -- 40 words or less -- telling me why your favorite teacher or librarian deserves an autographed copy of WILD AT HEART: Mustangs and the Young People Fighting to Save Them. Send your email to [email protected] and I'll let you know if you win!

I hear from readers whose teachers & librarians would like to invite me for school visits. You can help them reach me through this link to my VISITNG AUTHOR notes, and by sharing my email address: [email protected].

Share the WILD AT HEART discussion guide, too, and remember your science teachers might especially enjoy the chapter "Prehistoric Hoofbeats."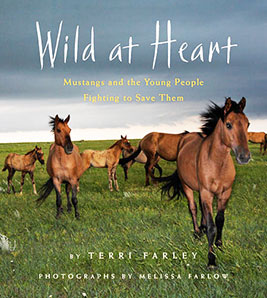 Where is Terri Farley?
February 18
Teen Bookfest by the Bay
Corpus Christi, Texas

Tuesday, February 21
Southlake Barnes & Noble
1430 Plaza Place, Southlake, Texas 76092
Presentations & booksigning open to the public
Call for details! 817-442-0207

March 9-10
Community Literacy Celebration: Writing the West with Suzanne Morgan Williams
Sponsored by Northwest Kansas Library System

March 28-29
Tehama Reading Council's TEHAMA READS!
Tehama, California
---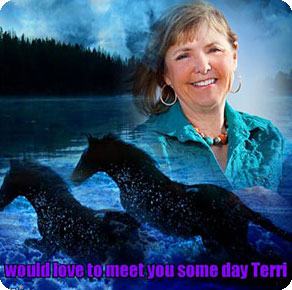 If you'd like me to visit your school or library to talk about reading, writing, wild horses and environmental science, now's a good time to ask your teacher or librarian to invite me! They can explore my website TerriFarley.com and email me at [email protected]. If you'd like to meet me at an event near you, take a look at my calendar and please introduce yourself!
---
Buy Phantom Stallion
Terri's books are available for E-readers!

Phantom Stallion books are available at your local bookstore and online at Amazon.com, Barnes & Noble, and Indiebound.org