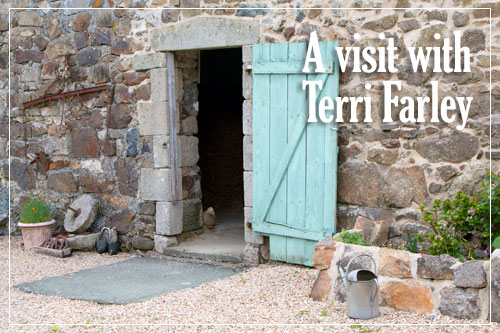 What happens when Terri gets here?
Visiting Author notes from Terri Farley
Email: [email protected]
I'm most often asked to give a large group assembly (300 max) followed by small in-class writing workshops. My usual audiences are 4-10th graders, but I've worked with pre-K -- retirees in varied venues from rodeo arenas to trail ride campsites. My emphasis, no matter age, is: only you can write your story.
On request, I'll link presentations to current school curriculum, do in-service classes with teachers and provide lesson plans. I'm happy to do up to four presentations a day, plus evening community events.
I'm excited about my newest presentation "What It Means to be a Mustang" and workshop "Write Like an Animal." Both combine the science and literature for which my non-fiction book WILD AT HEART is winning awards. 2017: I've added two upper grade (5-12) workshops. "Backbone, Not Wishbone" helps young people identify existing skills they can use to positively impact issues they care about. "Holdfast" is a creative writing workshop that reminds students regimented test-focused prompts aren't the only way to write, and self-expression can be a life-long joy. I like to work with teachers and librarians to tailor my visits to their kids. Check out my presentations on TerriFarley.com, knowing that I can tweak-to-fit. I've adapted programs to spotlight multiculturalism, bullying, and defuse student stress over testing.
AV needs: I'll link my presentation from my laptop or flash drive to a screen. I won't need Internet, but may need sound. Since my techie skills are limited, someone with technical expertise must be on hand. A cordless mic allows me to move among students in a large group presentation, but it's not vital.
Community nights: After hands-on writing workshops with me, students share new accomplishments via open mic, portfolio or posted work. Families may purchase books, get them autographed and talk with me about their children's writing. This format has worked at all grade levels in rural and urban schools.
Before I visit: To build enthusiasm (and explain who I am & what I'm doing there), most schools make my books available to students. If that availability includes a book sale, I'm happy to do a lunchtime or after-school autograph party. I can supply lesson plans and enrichment material. In lieu of reading my work, students can explore my websites.
Day of the visit: Schools often decorate with student art (visual book reports, illustration of author or bookish quotes, depictions of the Writing Life, etc) and have a Western dress-up day. Anything that reminds student & the rest of the community that you're red-hot for reading is a good thing!
Distant presentations include my honorarium, transportation and lodging costs. I'd be eating if I were home, so no meals are included in per diem. Still, I rarely turn down a good cup of coffee! As a former English department chair, I know about school budgets and I'm happy to discuss ways to cut costs.
Piggybacks: If I'm already in the area, transportation costs are on me, unless I have to drive over 50 miles. Then, I'd ask for a gas allowance. Some events have "angels" familiar with the area to take over driving. That's fine, too. If your school arranges a paid author visit to another school on the same day, my honorarium is cut in half for both schools for a maximum of 6 hours presentation time.
If I'm in your area for a bookstore signing or book festival, costs may be greatly reduced.
TERRI FARLEY AUTHOR BIO 2017
Terri Farley is the best-selling author of the Phantom Stallion series for young readers and Seven Tears into the Sea, a contemporary Celtic fantasy nominated as a YALSA best book. Terri's work has sold over two million copies in 27 countries and she has taught readers' and writers' workshops for kindergarten to post-graduate level audiences in the U.S. and Canada.
Terri's newest book Wild at Heart: Mustangs and the Young People Fighting to Save Them, is her first work of non-fiction. Wild at Heart, published by Houghton-Mifflin-Harcourt, is a Junior Library Guild selection, 2015 winner of the Sterling North Heritage Award for Excellence in Children's Literature and has been honored by the National Science Teachers Association and commended by the American Association for the Advancement of Science.
The Nevada Writers Hall of Fame honored Farley for mid-career excellence in 2010.
Farley taught middle school and high school language arts and journalism in inner-city Los Angeles, California and Reno, Nevada. She has a Master's degree in journalism.
Farley is an advocate for the West's wild horses and works with young people learning to make their voices heard.