Phantom Stallion E-Newsletter March 2017

KANSAS Readers!
Do you live near Saint Francis?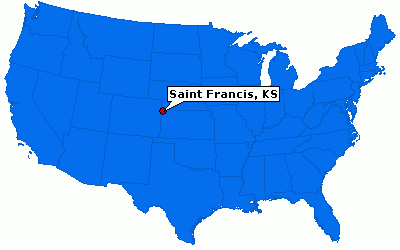 This week you can come to my single public event in your state! and you'll get to meet author Suzanne Morgan Williams, too!
When: Thursday March 9 at 5:30 p.m.
Where: St Francis Public Library
121 N Scott, PO Box 688 St. Francis, KS
Phone for details: (785) 332-3292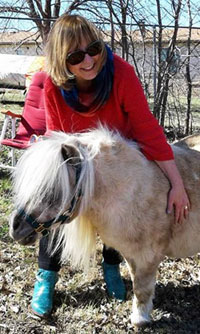 Last week in Texas, I got to do a presentation alongside the sweetest mini-horse ever.

Meet Stormy. He is a therapy horse for Victory Therapy Center.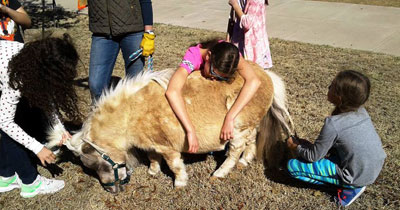 And here's an aerial view of Stormy's dad Chip.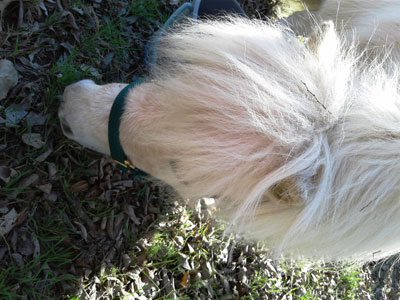 Sam's Blog
Cody Forster swaggered like a buckaroo, neighed like a pony and crowed like a rooster.

His arms jutted out and he yipped like the coyotes he heard at bedtime as he swooped away from his big sister Sam and headed for the hens.

"They'll quit laying eggs if you keep that up," Sam muttered as two hens fluttered up to perch on the lowest branch of a cottonwood tree.

At two-years-old, Cody's blue cowboy hat only reached Sam's knee, so she and Blaze, the ranch Border Collie, should have had no trouble keeping the little boy under control.

Sam often just tucked him under arm. Cody usually liked it. Feet kicking, he pretended to swim. But there were three reasons she didn't do that, today.

On this muddy Saturday morning, Sam's instructions were to take Cody into the ranch yard and " tire him out. " That meant letting him run around, slowed by boots that grew heavy with clumps of mud while Gram and Brynna, her stepmother, planned a Saint Patrick's Day party.

Without Cody onboard, it would be easier for Sam to catch Ace and saddle him. After days of rain and so much homework it seemed a sure thing that their teachers were plotting against them, she and Jen were finally going for a ride. Ace and Silly – Jen's palomino Silk Stockings – needed a chance to stretch their legs.

The third reason was a big problem and she, Dad, Gram and Brynna had all failed to solve it.

Cody was afraid of horses.

Sometimes.

Hooves thudded and splatted in the pasture as the saddle horses saw Sam approach.

Full of energy after a week of soggy days, they stampeded her way, with a chorus of snorts and nickers that seemed to say Pick me!

Popcorn's neigh floated like music over the ranch and Sam glanced back to see that Cody, frustrated by the hen's escape, was zooming her way.

It would make sense if her small brother was terrified of a wave of galloping horses. But, no, he kept coming as if he wanted to meet them at the fence.

Dad's mustang Blue Wings, Ace and Penny were the horses that made Cody cry most. Unless she counted Silly. The few times Cody had been in the ranch yard when Sam had mounted up to go riding with Jen, Cody had screamed. He'd sounded so frantic, last time, that Brynna had hugged the little boy against her and hustled inside to make sure he hadn't somehow hurt himself.

Now, forelock blown back between his ears, Ace ran alongside Brynna's blind mare Penny. Then, the bay mustang dodged around her. Eyes focused on Sam, Ace threw his star-faced head skyward, urging her to hurry up.

Sam split her attention between Ace and Cody. She concentrated. If Ace's head-tossing wasn't scary, what exactly frightened him?

Cody extended both hands. Palms up, his little fists closed in a gimme motion. He wanted the horses to come closer, right?

Taking down the lead rope she'd draped over a post, Sam slung it over her shoulder.

"Look at that good, sweet horse, Cody," she cooed to her brother. "See how little he is? And how sweet?"

Ace played along. He arched his neck and, without showing a glimpse of his big white teeth, reached his nose over the top rail of the fence.

When Sam looked back, Cody had halted. His muddy boots were planted apart.

"He's a good horse," Sam promised. "I'll lift you up so that you can pet him."

Before Sam extended her arms, Cody's wet pink bottom lip began to quiver. Next, he pointed one finger at Ace.

Finally, he shifted his teary eyes to Sam and said, "No!"
Read the rest of the story in next month's newsletter!

I've yearned for the moody beach and unsettling characters of SEVEN TEARS INTO THE SEA ever since I wrote "The End."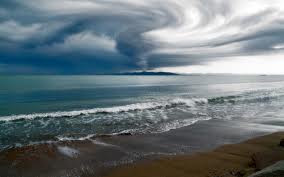 In the last few weeks readers who love the story as much as I do have taken me back to Mirage Beach, to Jesse and Gwen and the small town where the ancient Celtic legend of the selkie comes ashore for love, mystery and midsummer madness.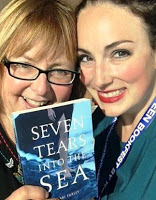 I met author Jackie Smith at the Teen Bookfest by the Bay and it turns out she's a fan of the story! This week in Quinter, Kansas, I get to talk about the appeal of shape-shifting characters and THEN
I discovered this YouTube book review by Lacy.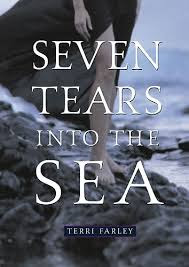 FYI:

Q: What is a selkie, really?
A: Ancient tales say they are faery folk who can shift shapes between human and seal, But there's much more to the story. Here's one of my favorite selkie websites about Selkie Folk

Q: What is scrying?
A: Originally, it meant "seeing from afar" and in SEVEN TEARS, Gwen's grandmother has the gift of seeing deeply into the present and future by gazing into an antique mirror, but crystal balls and still waters have presented others, over the ages, as a way to see and know the unknown.

Q: SEVEN TEARS' cover is kind of dreamlike, what is it supposed to show?
A: As you may know, Gwen has a history of sleepwalking and I've always thought the published cover (at the top of this blog) shows how it might feel if you'd walked in your sleep, right down to the edge of the sea as Gwen did.

Want to dive into this book? Visit your local library, bookstore or Amazon.com.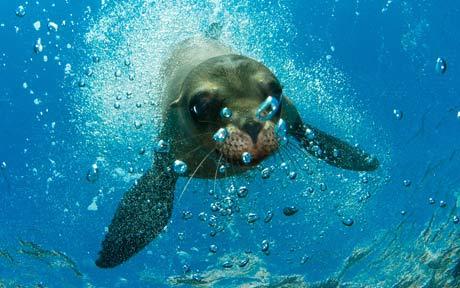 Where is Terri Farley?
March 9-10
Community Literacy Celebration: Writing the West with Suzanne Morgan Williams
Sponsored by Northwest Kansas Library System

March 28-29
Tehama Reading Council's TEHAMA READS!
Tehama, California
---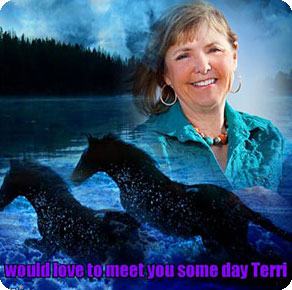 If you'd like me to visit your school or library to talk about reading, writing, wild horses and environmental science, now's a good time to ask your teacher or librarian to invite me! They can explore my website TerriFarley.com and email me at [email protected]. If you'd like to meet me at an event near you, take a look at my calendar and please introduce yourself!
---
Buy Phantom Stallion
Terri's books are available for E-readers!

Phantom Stallion books are available at your local bookstore and online at Amazon.com, Barnes & Noble, and Indiebound.org