TERRI'S PETS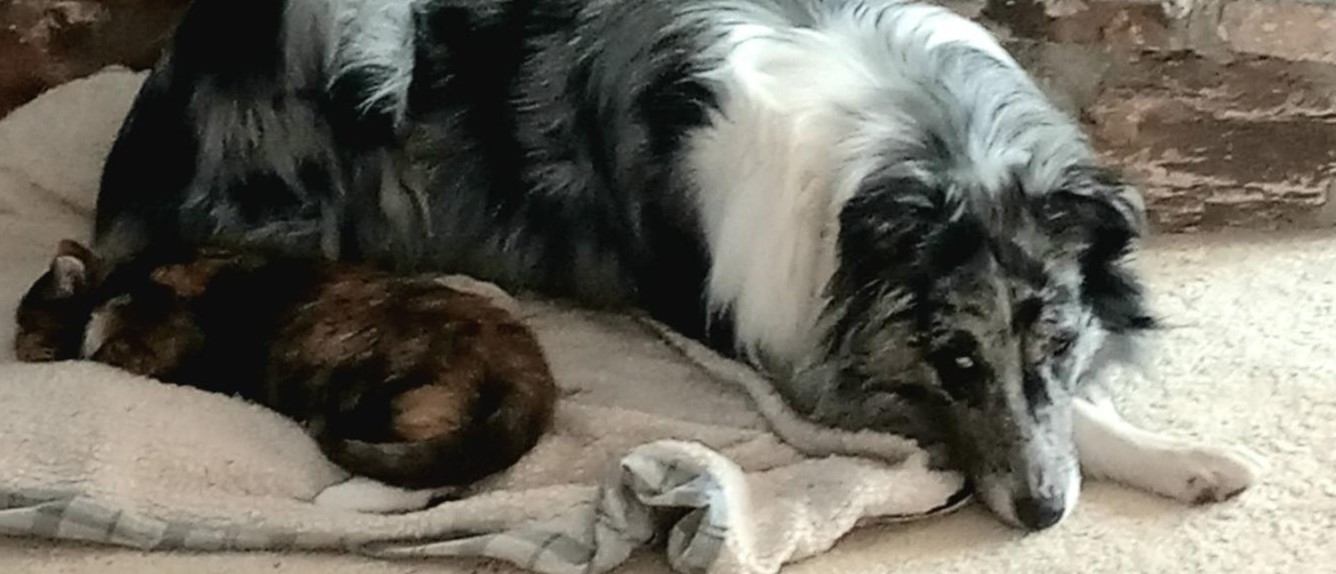 ---
Tamarack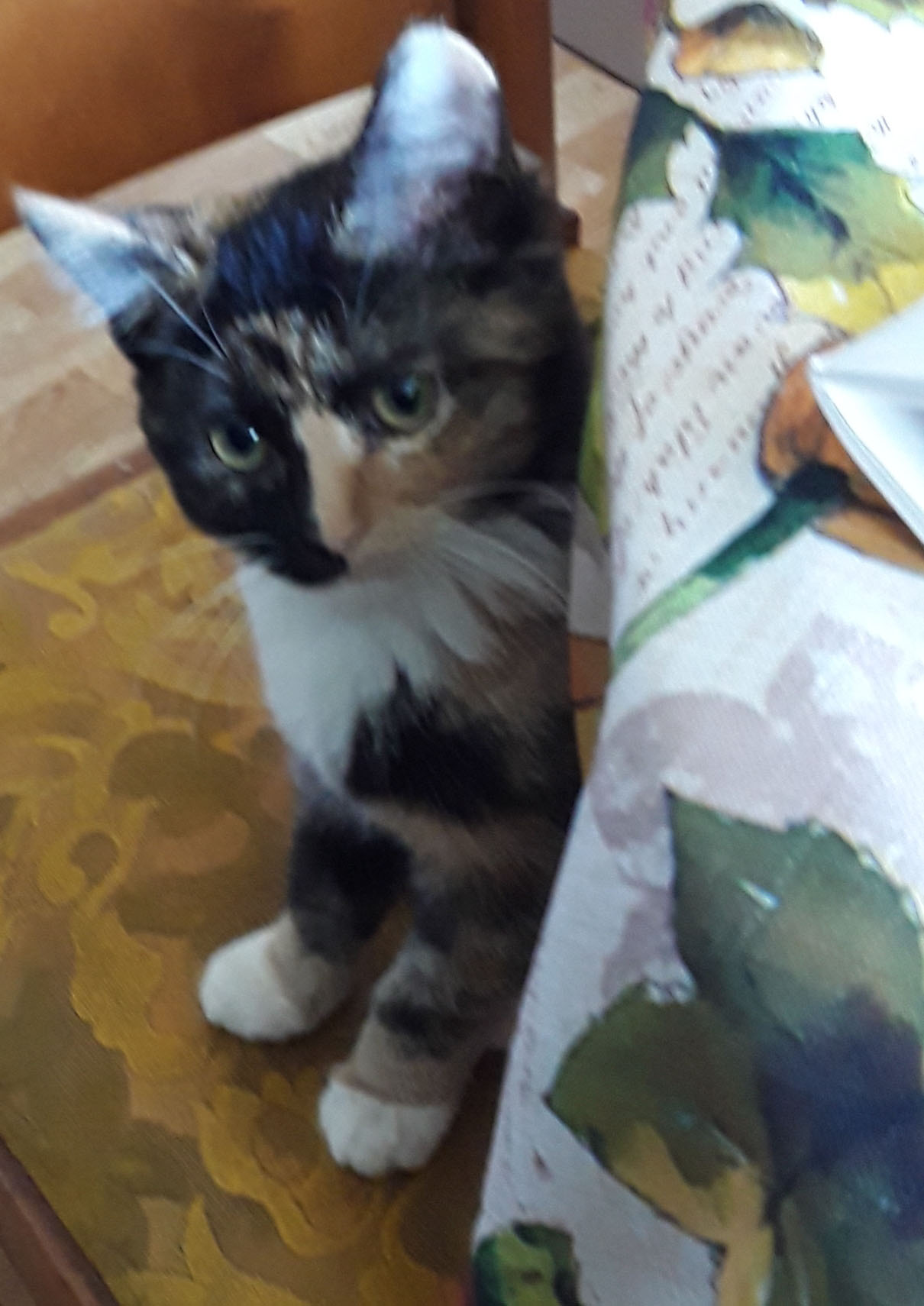 Meet Tamarack – Tami for short. This calico kitten is the newest member of the Farley household and the way she got here is quite a story.
In July, at the height of the Tamarack wildfire (we had heavy wood smoke & falling ash, but didn't have to evacuate) Willow, my farm-reared and super-obedient Scotch Collie refused to come when she was called. That was totally out of character, but she did bark back at me. A lot.
I followed Willow's barks and found her on the adjoining property, beside a tiny kitten. The kitty's closed eyes and umbilical cord told me she was new born. She was so cold, It was dusk, when coyotes and bears are in the neighborhood. There was no sign of Mama Cat, so I brought baby inside to warm her. The Humane Society (experts at rescuing orphans) was closed, so my husband rushed to buy cat milk replacer and a feeding syringe.
I fed the kitten slowly and often and she was still alive at dawn. Then, I drove her to the Nevada Humane Society. I turned her over to them (it's called a "Good Samaritan surrender"), giving her the name Tamarack and indicated we REALLY wanted to adopt her if she survived.
She did! Now Tami is back where she was born and she's best buddies with Willow, her rescuer.
---
Willow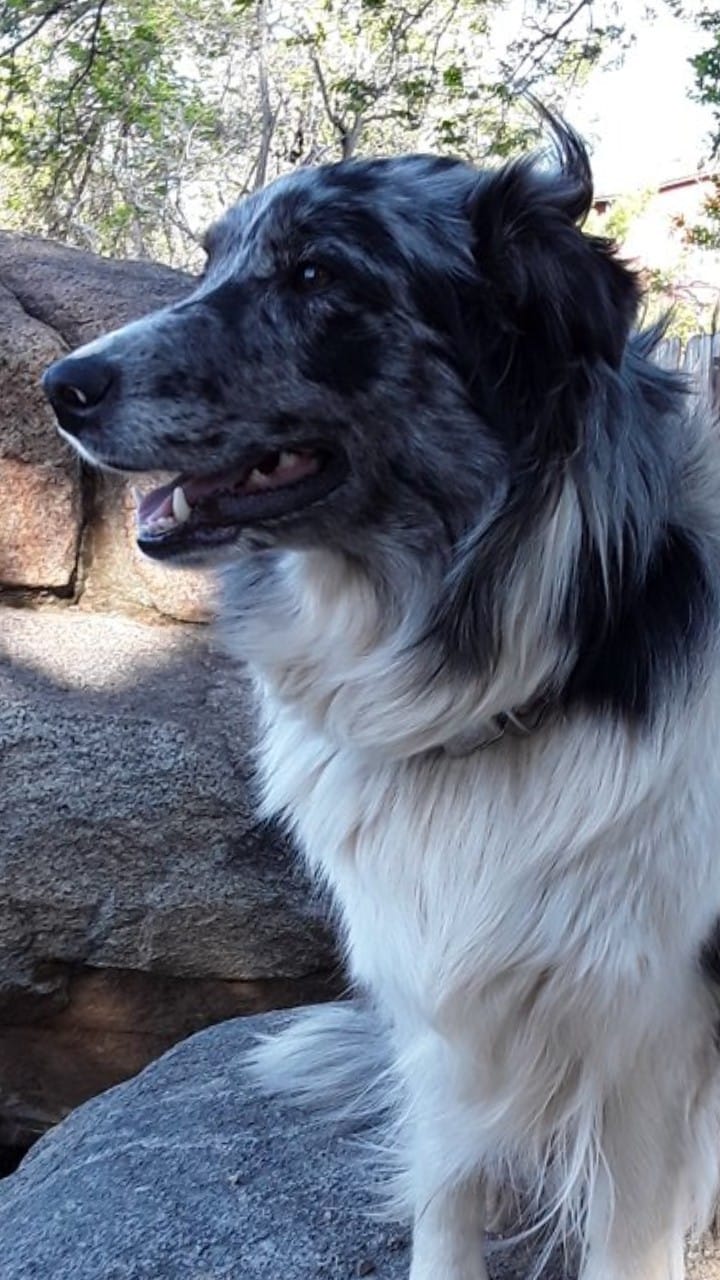 Meet Willow, a Scotch Collie. She is a smart, loving and super-athletic dog! Born on a farm in Oregon, she is part of an effort to make Collies more like the original working dogs – not show dogs – they were in Scotland. Her color is blue merle (in the old Scottish language merle meant black bird) and she has the biggest vocabulary of any four-footed member of the family, ever! I picked up Willow in Oregon in the very early days of the pandemic, and because we were snowed in on the other side of the mountains, we bonded quickly and completely!