7 TEARS INTO THE SEA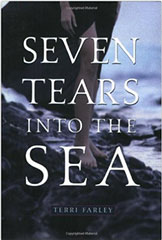 Gwen Cooke was 10 years old when chronic sleepwalking led her onto a midnight beach and into a world of Celtic magic, mystery and danger.
Was her encounter with a boy with dark, slightly tilted eyes a dream? Were the words he whispered before vanishing, a spell?
In the wake of gossip over what really happened to Gwen, her family moved away from their seaside home and Gwen never saw the boy again.
Now seventeen, Gwen is returning to her childhood home. She says it's because her grandmother asked for her help at the Sea Horse Inn. But Gwen knows it's time to go back for another reason: She yearns for the sea. Perhaps the sea itself is calling to her. Perhaps the memory of the boy and his haunting words are drawing her back to the place they met. Perhaps it's time for her to face her destiny.





Home | Books | The Author | Connect
Events | Education | Press | Blog | Wild Horses

© Terri Farley